Help for Businesses
Business Information & COVID-19 Support
The East Gwillimbury Economic Development Department is here to support our business community. As we navigate the COVID-19 pandemic, we are working with our industry partners to ensure that you have the supports you need.
Economic Development Department
E-mail: ecdev@eastgwillimbury.ca
Telephone: (905) 478-4282
Programs and Funding
NEW - Canada United Small Business Relief Fund (CUSBRF)
Canada United Small Business Relief Fund (CUSBRF) provides funding of up to $5000 for small businesses across Canada. The program is to help small businesses offset the cost of expenses to open safely or adopt digital technologies to move more of their business online.
Eligible Activities and Costs
The maximum grant amount available per application is $5,000. The grant, if awarded, is to provide reimbursement of costs incurred because of COVID-19. It is not a loan, line of credit, or similar product. It is funds that will be paid within 30 business days of receipt of banking information and the signed approval letter.
There are three categories of purchases that are eligible for reimbursement under the program:
Purchase of Personal Protective Equipment (PPE)

Renovation of space to adhere to re-opening guidelines

Enhancement of website/developing e-commerce capability
Eligible expenses directly related to the above categories are permitted provided the purchases were made no earlier than March 15, 2020. All eligible expenses must be incremental and a direct result of adjusting operations for COVID-19 safety guidelines. Normal or usual ongoing business costs are not eligible.
To learn more or submit your application, please visit: Canada United Small Business Relief Fund (CUSBRF)
Ontario Small Business Support Grant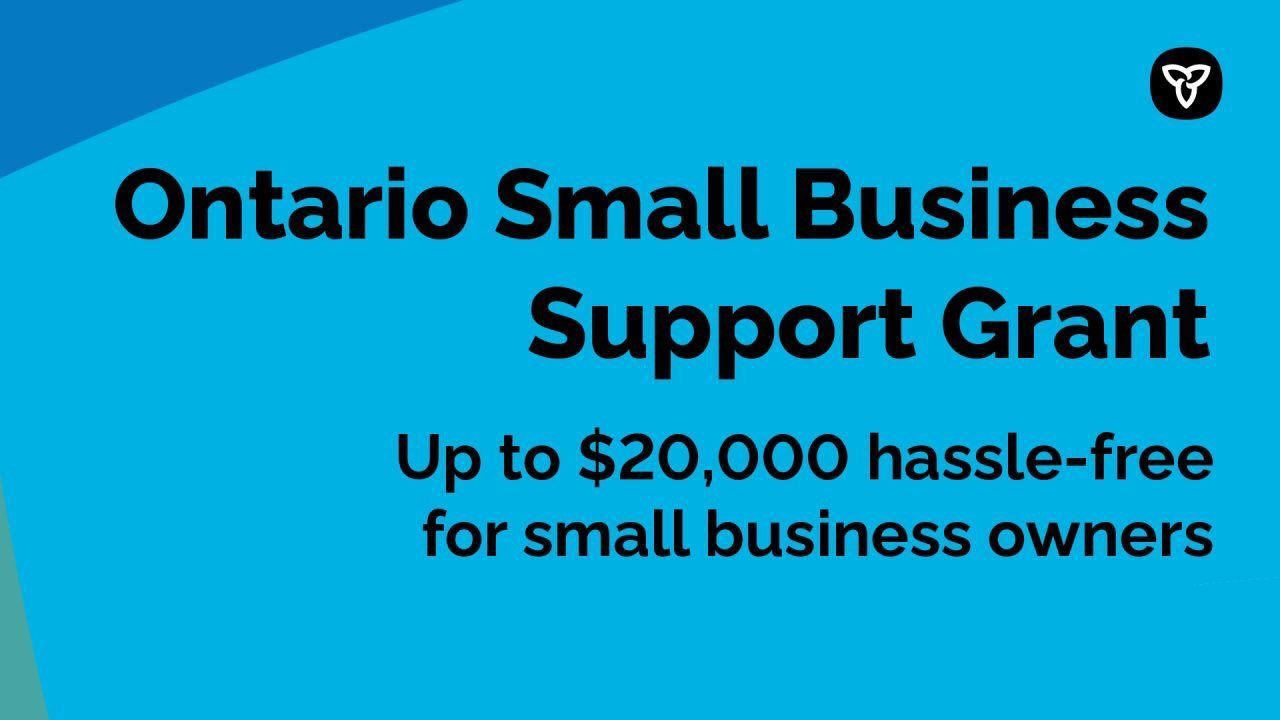 The Ontario Small Business Support Grant
is intended to help small businesses (including sole proprietorships) in Ontario that are required to close or significantly restrict services under Ontario's Provincewide Shutdown (effective December 26, 2020). Starting at $10,000 for all eligible businesses, the grant will provide businesses with funding up to a maximum of $20,000 to help with revenue losses expected as a result of the Provincewide Shutdown.
Eligible small businesses include those that:
Are required to close or significantly restrict services due to the Provincewide Shutdown being imposed across the province effective 12:01 a.m. on December 26, 2020

Have fewer than 100 employees at the enterprise level

Have experienced a minimum 20 per cent revenue decline in April 2020 compared to April 2019
Business that are not eligible include those that were already required to close prior to the introduction of modified Stage 2 measures and essential businesses permitted to operate with capacity restrictions (e.g.: discount stores and big box stores selling groceries, supermarkets, grocery stores, convenience stores, pharmacies, and beer, wine, and liquor stores).
For more information, please visit:
Application: Ontario Small Business Support Grant
Application Guide: Ontario Small Business Support Grant User Application Guide
South Lake Futures COVID-19 1:1 Business Consultations
South Lake Futures is providing Business Consulting Sessions through a partnership with WCM Consulting as no cost to you. In your one-on-one sessions with a Business Consultant, you can expect to receive technical and professional advice to assist you in adapting to the changing business landscape. Assistance provided through the RRRF community based project include:
Adapting workflows and processes (e.g.: digital needs assessment)

Adapting and adopting a virtual sales platform

Accessing new markets

Answering your business related questions
Please visit the following link for more information: https://bit.ly/2IHACzC
COVID-19 Response Fund
In response to the negative impact COVID-19 is having on local businesses, South Lake Futures
established the COVID-19 Response Fund to offer loans between $5,000 and $20,000 below prime rate to support businesses impacted by the pandemic.
For more information on this fund, please contact: Brian McGregor at bmcgregor@southlakefutures.ca
Business Updates
The East Gwillimbury Economic Development team will continue to support businesses during this difficult time. To ensure the health and safety of our clients and staff, all business support activities will be conducted via telephone (905) 478-4282 and

e-mail.

Due dates for municipal

property taxes and utility bills

remain as normal timelines indicated on the bills. Residents are encouraged to pay if able, however, if there is a concern regarding the ability to pay a bill, please

e-mail

the Finance Department.

The Town of East Gwillimbury's Community Support Hotline is now open Monday to Friday from 8:30 a.m. to 4:30 p.m. at (905) 478-3820 to provide hands-on assistance to residents and small business owners in identifying and applying for COVID-19 related Federal, Provincial, and Municipal Support Programs.

The East Gwillimbury Chamber of Commerce continues to support local businesses throughout these unprecedented times. Please e-mail the Chamber of Commerce directly with any questions you may have as the EGCOC office will be working remotely. Please visit the event calendar for upcoming events and seminars.
South Lake Futures remains committed to serving clients during this challenging time. Offices will be staffed but closed to the public until further notice. They will continue to be available through e-mail and telephone 1 (866) 605-1244. Ongoing updates will be posted to their website and social media.
York Small Business Enterprise Centre continues to offer business supports and consultations via e-mail and the office remains closed to the public until further notice. Please visit the events calendar for upcoming events and seminars.

211 Ontario Information Hotline is your primary source for information on government and community-based social services. Find local services and supports in areas such as Foodbanks, Food Delivery, Helplines, Housing Support, Mental Health Support, Ready to Eat/Take Away Meals, and more. This hotline is free and confidential and available by TTY: 1 (888) 340-1001, e-mail, live chat 24 hours a day and 7 days a week in over 100 languages.

Business Resources and Program Links
FanSaves Gift Certificate Program
The East Gwillimbury Chamber of Commerce
partnered with FanSaves
to support the local business community. This platform is free to EG businesses and will allow people to buy gift certificates from businesses that are currently closed or offering limited services, which they can use at a later date. Fill out this online form
to sign up and start selling.
Distantly
Distantly
is an online donation platform that allows community members to make direct donations to small businesses in East Gwillimbury. The goal is to lessen the impact of non-essential closures by enabling customers to continue supporting businesses until they are able to full re-open. Add your business for free here.
ShopHERE
provides East Gwillimbury businesses the opportunity to develop online presence. The program provides a customized online store on Shopify, hands-on assistance with setting up and launching the online store, training and support for digital marketing, and access tools to launch of their online store. ShopHERE
is free but businesses will be responsible for the monthly Shopify fee after the 90-day trial.
Star Metroland Media
Star Metroland Media is supporting local businesses by voicing their concerns in newsrooms and helping them connect to customers through their platforms. Check out their online and print community newspapers where businesses that are open and ready to serve the community are featured.
East Gwillimbury Publication
Government of Canada
During this extraordinary time, the Government of Canada is taking strong action to help Canadian businesses as COVID-19 is affecting them, their employees, and their families. Help includes benefits, tax credits, and new funding.
Highlights
COVID-19 Resources for Canadian Businesses Full list of resources and information on reopening, financial support, loans, and access to credit, small businesses and self-employed, suppliers, industry and international trade, and more.
COVID-19 Recovery Benefits for Individuals Workers not eligible for EI will be able to access income support through new Recovery Benefits.
Canada Emergency Rent Subsidy (CERS) CERS provides simple and easy-to-access rent and mortgage support until 2021 for qualifying organizations affected by COVID-19.
Canada Emergency Wage Subsidy (CEWS) As a Canadian employer whose business has been affected by COVID-19, you may be eligible for a subsidy of 75% of employee wages for up to 12 weeks.
Canada Emergency Business Account (CEBA) - CEBA provides interest-free loans of up to $40,000 to small businesses and not-for-profits, to help cover operating costs during a period where their revenues have been temporarily reduced.

Business Credit Availability Program (BCAP) - The Government of Canada has introduced the BCAP to help Canadian businesses obtain financing during the current period of significant uncertainty.

Canada Emergency Commercial Rent Assistance (CECRA) - The program will seek to provide loans, including forgivable loans, to commercial property owners who in turn will lower or forgo the rent of small businesses for the months of July, August, and September.

Other Government Departments or Agencies
For more information, please visit: Canada's COVID-19 Economic Response Plan
Call to action for innovators, manufacturers, and service providers to help Canada meet the need for medical supplies.
Government of Ontario
Regional Municipality of York
In-person business advisory services are currently transitioning to phone consultations at this time. For information please email: edo@york.ca
York Small Business Enterprise Centre
(YSBEC): Effective immediately, where possible, the YSBEC will be moving all in person consultations to phone consultations. Consultations that cannot be completed by phone will be postponed until further notice. In addition, we will be evaluating all seminars and programs to see which ones can be delivered online. Please stay tuned for more information on our programs over the coming days and weeks including:
Support for Sectors

Agriculture, Agri-Food, Aquaculture, and Fisheries
Mandatory Isolation Support for Temporary Foreign Workers Program (MISTFWP): provides support of $1,500 for each temporary foreign worker, to employers or those working with them to ensure requirements are fully met. The funding is conditional on employers not being found in violation of the mandatory isolation.
Farm Credit Canada: providing an additional $5 billion in lending to producers, agribusinesses, and food processors. This will offer increased flexibility to farmers who face cash flow issues and to processors who are impacted by lost sales, helping them remain financially sound during this difficult time.
Canadian Seafood Stabilization Fund: providing $62.5 million of new assistance to the fish and seafood processing sector through the Canadian Seafood Stabilization Fund. This will help businesses: access short-term financing to pay for maintenance and inventory costs, add storage capacity for unsold product, comply with new health and safety measures for workers, support new manufacturing/automated technologies to improve productivity and quality of finished seafood products, and adapt products to respond to the changing requirements and new market demand.
Canada and Ontario Take Additional Steps to Protect Agri-Food Workers During COVID-19: the Federal and Provincial Governments

are investing $2.25 million in provincially licensed meat processing plants to better protect employees and ensure the continued supply of healthy products for consumers during the COVID-19 outbreak.

Through the Canadian Agricultural Partnership (the Partnership), the first stream of the Agri-food Workplace Protection Program will provide funding to implement COVID-19 health and safety measures in provincially licensed meat plants, including purchasing additional personal protective equipment, redesigning workstations, supporting employees who require mandatory isolation, and work-site mobility and transportation.

Agri-Food Open for E-Business - Targeted Intake: t

he Agri-Food Open for E-Business targeted intake will help businesses/organizations quickly expand their marketing channels and respond to new market challenges, increase online sales in the sector and provide consumers with access to more local food.

This targeted application intake features two funding streams: 1) Bring Your Business Online: Provides a grant of up to $5,000 to eligible organizations/businesses to help establish an online presence and 2)

Develop Online Business Opportunities: Provides cost-share funding for up to 90 per cent of eligible costs to a maximum of $75,000 to develop e-business opportunities on a larger scale.

For the Herd: the Ontario Equestrian has launched For The Herd, an emergency fundraising initiative to support lesson horses and riding school facilities in Ontario. The goal is to distribute a pandemic relief package for each riding facility in need. Relief will be used to ensure the basic needs, welfare and health of school horses during the pandemic. The need is great, and as a community we will come together and protect these horses.

Emergency Processing Fund: $77.5 million Emergency Processing Fund to help food producers access more personal protective equipment (PPE), adapt to health protocols, automate or modernize their facilities, processes, and operations, and respond to emerging pressures from COVID-19 so they can better supply Canadians with food during this period.

AgriRecovery: an initiative of up to $125 million in funding to help producers face with additional costs incurred by COVID-19 such as set-asides for cattle and hog management to manage livestock backed-up on farms, due to the temporary closure of food processing plants. This new federal funding will help beef and pork producers and processors adapt to a changing market, and help farmers and ranchers keep their animals longer before marketing.
Surplus Food Purchase Program: $50 million fund designed to help redistribute existing and unsold inventories, which could include products such as potatoes and poultry, to local organizations who are serving vulnerable Canadians.
AgriStability & AgriInsurance:: the Federal and Provincial Governments are working together to increase interim payments from 50 per cent to 75 per cent through AgriStability. These funds will support producers who are facing a significant revenue declines.
Other Links
Culture, Heritage, and Sports Sectors
Emergency Support Fund: $500 million Emergency Support Fund as a temporary relief measure to help alleviate the financial pressures of cultural, heritage, and sport organizations facing significant losses due to the COVID-19 pandemic.
Tourism
Central Counties Tourism: is responsible for the strategic development and marketing of the regions of Headwaters, York and Durham as a visitor destination. Our mandate is to support our stakeholders in every way possible during this challenging time.

Deferring Payments on Commercial Leases & Licenses of Occupation:

the Government of Canada will work with tourism operators in national parks, historic sites, and marine conservation areas to defer payments on commercial leases and licences of occupation without interest until September 1, 2020.
Not-for-Profit and Charitable
Emergency Community Support Fund: $350 million to support vulnerable Canadians through charities and non-profit organizations that deliver essential services to those in need.

The investment will flow through national organizations that have the ability to get funds quickly to local organizations that serve vulnerable populations.
Toolkits

Canadian Chamber of Commerce
Canadian Federation of Independent Business (CFIB)
Ontario Chamber of Commerce (OCC)
Other Information
Routes Connecting Communities

Are you looking for someone to shop/deliver on your behalf, please connect with Routes Connecting Communities Inc.
. at (905) 722-4616 or info@routescc.org. Also, if you are willing to provide driving/delivery services for those in need, connect with us too. We match the need to the volunteers.
External Resources to Support the Workplace